Why Every FMCG Manufacturer & Distributor Need Sales Force Automation System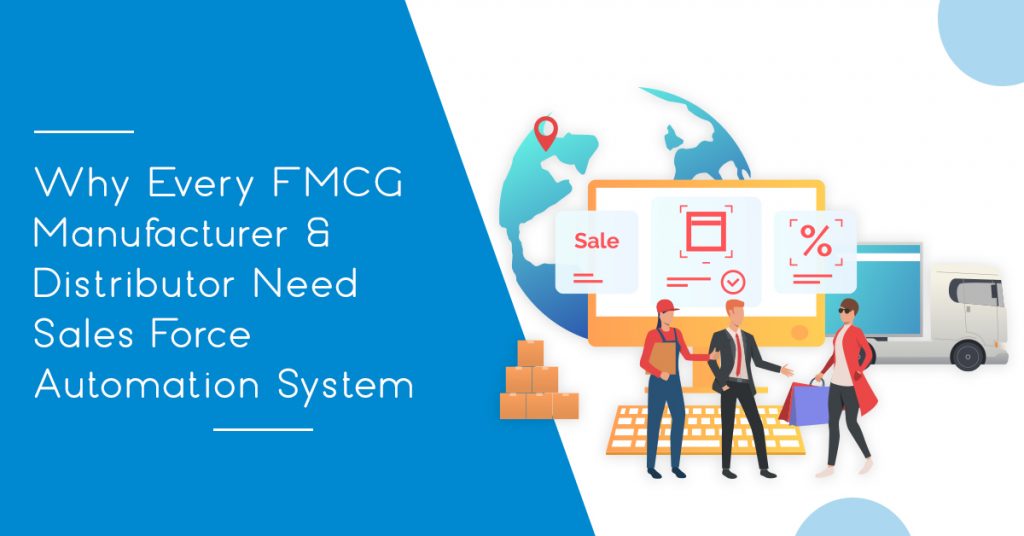 Manufacturers and distributors of Fast Moving Consumer Goods of FMCG, as the category is popularly known, have numerous tasks on their hands. Right from ensuring adequate and timely production to quality control, from managing inventory to contacting suppliers, from creating a dependable supply chain to handling finance, there is just too much to do! The same is the case with the distributors involved in the FMCG sector. There are hundreds of FMCG companies, thousands of retailers and lakhs and lakhs of rupees at stake. All of this is almost impossible to do manually, and not all manufacturers and distributors have the resources to develop a robust system to manage these tasks.
It is at this point, that a meticulously designed Sales Force Automation System comes into the picture. And, for what it's worth, this system can help bring numerous benefits to FMCG Manufacturers and Distributors, as illustrated below –
Benefits of Sales Force Automation For FMCG
Enhanced Performance of the Sales Team
In the present-day dynamic world of today, it has become exceedingly important for the field sales staff to have ready-to-use data and insights. Not only does it help them communicate with retailers better, but also ensures better utilization of their time. This can be easily taken care of with the help of the Sales Force Automation System. Moreover, with the help of this system, they can keep a track of various details of the retailers, new and existing products, prices, and various discount schemes and offers with exceptional ease. With all of this at their fingertips, the sales staff can truly focus on the work that is the most crucial – making sales!
Quick Collection of Real-Time Data
Real-time data has gained exceptional importance over the last decade and more so for the FMCG sector. After all, only when manufacturers have easy access to information on market reaction to aspects like pricing, quality, quantity and overall likeability of a product can they make requisite changes to the same. The use of a robust Sales Force Automation System can help manufacturers and distributors get their hands on such data at the earliest possible, enhancing its usability by manifolds.
Easy Assimilation of Intelligent Insights
When it comes to getting sales insights, and predicting the future performance of a particular product, the data analysis feature of a dependable Sales Force Automation System comes into play. This data not only helps business owners determine if and where the sales force is lagging, and whether or not a specific product is performing well in the market. These insights can assist manufacturers and distributors in improving their sales strategies and implementing a more predictable sales model. Besides, this data also enables manufacturers to forecast demand, even before getting an order from the distributor!
There was a time when it was almost impossible for manufacturers to have any details of the retailers. SFA has changed this, and for good. Now, just by the way of the salesman entering a few details into the app, the retailer's name and contact information can be stored on the app, for quick and easy access as and when required. This can help companies to maintain a well-meaning relationship with their workers and directly communicate with them regarding ongoing and upcoming schemes and offers. They can also stay in touch with the retailers regarding new products, feedback on existing products, and more, thereby ensuring maximum value for the brand!
Simply put, there are innumerable benefits that an FMCG company can reap through the use of a meticulously designed Sales Force Automation Software. Of course, this is highly dependent on the factor that the SFA system should be easy to deploy and even easier to use. It is at this point that KOOP's Sales Force Automation stands true to its promise and delivers on all the fronts, making it an indispensable part of any FMCG Business looking forward to growing and expanding its reach and increase its overall profitability. With KOOP's SFA by its side, a business can achieve numerous goals, including but not limited to tracking sales ensuring quicker stock replenishment, lower inventory carrying costs, facilitate better production planning, and ensure enhanced channel visibility – all of it in a manner that's both cost-effective and largely effortless!
FAQs: Manufacturer & Distributor Who Need Sales Force Automation for FMCG
Which industries use Sales Force Automation Systems?
Retail and FMCG, Banking, Manufacturing, Tourism, Healthcare, Media and Communications are some of the industries which can immensely benefit from a well-designed and easy-to-implement sales force automation system!
Are there any Salesforce Location Tracking Systems that offer free trial?
Well, you seem to be in luck. Koop's SFA is an efficient Salesforce Location Tracking System that you can use completely free of charge for up to 20 employees! What's more? In addition to location tracking, you can enjoy some much-needed features including –
Unlimited Customers
Unlimited Tasks
Visit & Feedback Management
Attendance Management
Leave Management
…and all of this at zero cost!!!
What are some of the features that a good Salesforce Automation System should offer?
SalesForce Automation system is an investment that will help your business strategize and grow by leaps and bounds. However, this can only happen when you chose SFA system offers some non-negotiable features such as –
Expense Processing
Target Based Structure
Data Import and Exports
Messaging
News Notifications
User Hierarchy
Reporting Structure
Offline Functioning