6 Steps for A Successful Distributor Management System Implementation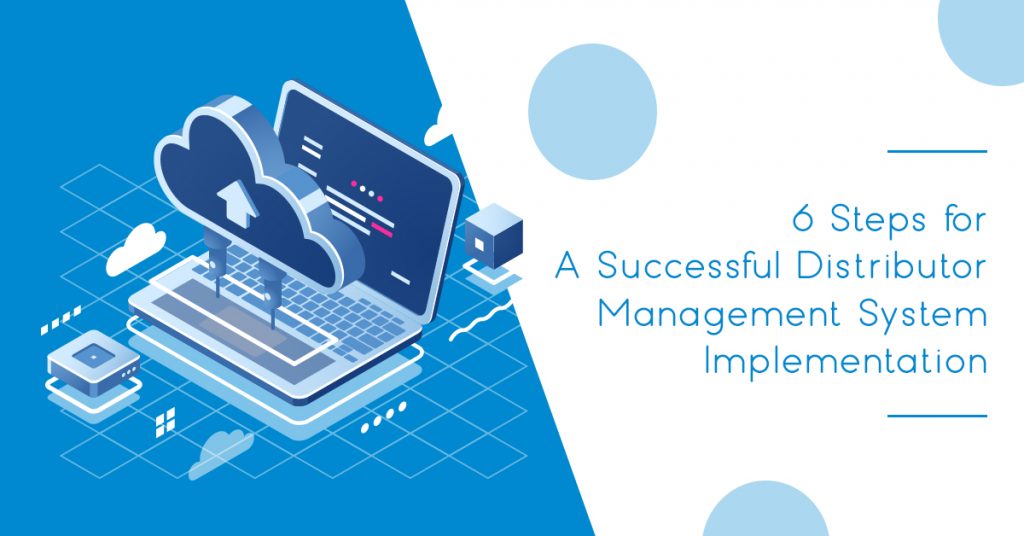 Distribution Management System Implementation
A Distribution Management System often known as DMS refers to the process of supervision of the entire supply chain including but not limited to orders processing, inventory tracking, supply management, packaging, warehousing, and other logistics. At its core, DMS helps integrate all these processes into a single software, thereby enabling the business to function in an organised manner.
However, only when the Distributor Management System is implemented efficiently, can it truly help improve the organisation's profitability. So, what is the process for ideal and more importantly successful Distributor Management System implementation? Well, that's precisely what we are about to find out!
Step 1 – Cleaning Up of the Master Data
Before the process of DMS implementation starts, an organisation needs to check its master data for any redundant data, which can often be found in the form of inactive SKUs and parties that the organisation is no longer in business with! Only when there is no such futile information in the systems can the new Distributor Management System properly take effect!
Step 2 – ERP Integration
This can be easily termed as one of the most crucial stages of DMS implementation. While ERP integration with the DMS process might seem cumbersome to begin with, it is quintessential to the compliance of Distributor Management System, as it allows the much-needed access to critical data including but not limited to – primary sales, primary orders, new vendor creation, and new client creation. 
Step 3 – Create your Invoice Template
Standardising your invoice template will enable you to save precious time by sending out system-generated invoices, while also eliminating any room for error. Moreover, it will also help you keep a track of the invoicing systems that your distributors are following.
Step 4 – Incentivise Distributors
It is now time for you to offer incentives to distributors, as a way to encourage them to use the DMS platform. Right from encouraging new digital behaviours to promptly setting distributor claims, and even adopting future technologies, this stage will make it all easy and approachable for you.
Step 5 – Reward Compliance
Driving change amongst distributors is no easy task and requires a strategic approach. While there will be a few distributors who will happily dial the boat with you, most will resist. An easy way to get them on board is by creating a plan to rewards distributors who choose DMS compliance.
Step 6 – Ensure Post-Implementation Upkeep
While the process of installation of DMS in itself sits well with companies, it is the post-installation upkeep that many organisations struggle with. That said, with the help of a reliable customer support team from the Distributor Management System provider's step, it can become rather convenient to follow the below-mentioned tips.
Data Entry of Products and Related Aspects
As important as it is to clear any old and redundant data, it is equally important to update the software with the complete data pertaining to every product, distributor, warehouse and so on. This ensures quick and easy access to these crucial details, while also enabling automated order processing. Moreover, it brings the entire process to an optimal speed, which may not be possible if the requisite data is absent from the system.
Automation of Order Processing
While it may seem time-consuming at the very start, but once all the requisite details have been entered into the system it becomes extensively convenient to automate the entire process right from getting orders to confirming them, from creating delivery challan to applying for promotions and generating invoices. Needless to say, this helps save a significant amount of time and resources, which could be rather invested in adding value to the customers' bottom line.
Integration of Accounting Systems with the Distributor Management System
Keeping a track of the payment to be received from retailers, credit limit, credit history, and other minute details can become as easy as ABC, simply by integrating the existing accounting system with the DMS. This will not only help ensure that all payments are received in full by a stipulated date, but also encourages retailers to make timely payments.
We hope that you now know all about the steps leading to the successful implementation of the Distributor Management System. If you too have been on the lookout for just the perfect Distributor Management System solution for your business, make sure you get in touch with our experts at KOOPS right away and request a Demo! 
Distributor Management System Implementation FAQs
What are the major challenges in Distributor Management System adoption?
It has been seen that DMS often faces strong resistance from distributors across the board, especially those who are either linked to small businesses or work in remote areas. Some of the challenges faced in the adoption of a Distributor Management system from the distributors' end include –
Multi-brand Distributors
Unease with Technology
Lack of Skilled Resources
Malpractices and Manipulations Exist
What are some of the noteworthy features of KOOPS Distributor Management System?
Some of the prominent aspects of the KOOPS Distributor Management System are as follows –
E-Catalogue
Order Management
Automated Ordering System
Area-Wise Sales Management
Supply Chain Planning
Dealer Requirement Monitoring
Effective Network Management
Transparent Communication
Timely Reports
Payment Processing
Resources:
https://ieeexplore.ieee.org/document/8586231
https://www.osti.gov/servlets/purl/1351115
https://jazzteam.org/en/integration-of-the-distribution-management-system-with-erp-systems-of-regional-distributors/