Salesforce Automation – The Spine of Your Sales Team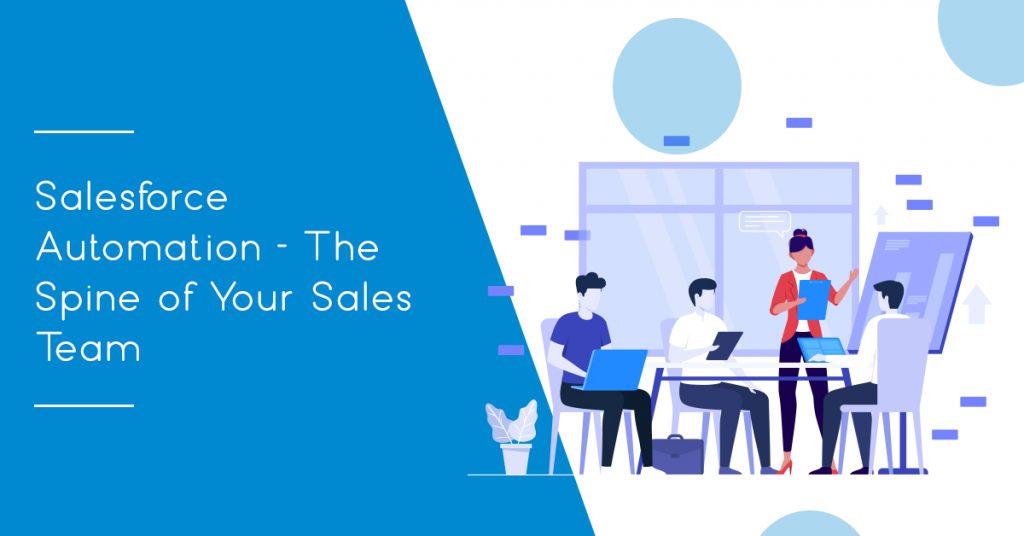 What is Salesforce Automation?
Salesforce Automation (SFA) is essentially a software that automates some of the most repetitive and time-consuming administrative tasks of the sales process. This ensures that the sales teams have more time and energy on their hands, and can focus on the one thing that matters the most – Making Sales! Simply put, Salesforce Automation helps bring convenience to the sales process.
Why Salesforce Automation is Important for the Sales team?
SFA brings numerous benefits when deployed efficiently. Some of the benefits which truly make this system a must-have for any business that relies heavily on sales include –
Efficient mobilisation of resources regardless of geographical location
Information assimilation at the point of the sales meet for enhanced efficiency of reporting
Monitoring and evaluation of sales teams during site visits
With all these benefits and more, SFAs are quickly becoming indispensable, not only for large enterprises but also for mid-sized and small-scale businesses.
Not convinced yet? Well, let us take you through the most prominent benefits of SFA in greater detail.
Reduced Administration Time
The major key responsibility area of a sales team is to make sales, but it doesn't get to do that as frequently as you would like. A vast majority of their time is consumed by administrative tasks such as accumulating customer information, making appointments, setting up reminders for follow-ups, processing orders, writing up reports and carrying out daily, weekly and monthly analyses. And this is just the tip of the iceberg, as there are often many more tasks than just these. When implemented, the SFA can take care of all or at least most of these tasks thereby helping the sales team save its precious time. Not only does it ensure more bandwidth for the team to make actual sales, but also helps boost their morale.
Quicker Response Time
When it comes to staying in touch with the customers, especially when a deal is about to be closed, quick and effective communication becomes critical. Since time is of the essence in such situations and more so in B2C sales, relying on the sales team might prove to be detrimental. If they are simply too busy or just forget to respond to the client in time, the deal might not get through. To avert such situations, it is in the organisation's best interest to have Sales Force Automation in place so that the team knows precisely when they need to respond to a customer, and when they need to follow up, thereby bringing an optimal level of assurance in the process.
Reduced Scope for Human Error
Can you imagine the cost of a lost memo, or worse, that of a lost piece of paper with a customer's contact information? A simple human error could effectively cost you a potential client and years' worth of sales. While there isn't much that we can do to make humans more efficient, we can certainly rely on systems that are designed to stay free of any such errors. Yes, we are talking of the SFA, yet again.
Salesforce Automation can not only help store all important information with incredible ease but can also help your team to get access to this information any time, any place they want.
Lower Cost-Per-Sale
To make a business profitable there are two sure ways – one, increase sales, and two, reduce costs. Now that we have seen how SFA can help increase sales, directly and indirectly, let us see how it can help lower the cost per sale. SFAs are intrinsically designed to analyse customer behaviour over the course of time. Hence, your sales team will have access to information such as which customer is more likely to make a purchase, and which customer is inclined to make a bigger purchase than the most. Such insights can help the sales team focus on the most promising clients thereby enabling lower cost per sale, and increased efficiency of the sales process on the whole.
Supplementary Sales Data
The list of leads isn't the only data that your sales team needs. In addition, they also need access to other data including market trends, customer demographics, customer purchase patterns and other sales data. All of this combined, can help enhance their ability to make sales to the existing customer base, and even tap newer audiences. Of course, this is all possible if you have the right SFA in place, and are more intentional in your approach towards this data and its analysis.
Now that you are aware of the immense benefits that Salesforce Automation Systems bring to your business, make sure you take the leap and work with one of India's leading SFA providers – KOOPS, and get a system that meets your business needs as well as your budget. Wait no more, before you give your sales team the support they always needed!
Conclusion
The sales force automation system is essentially required for all businesses that have sales and customer relationship management.
Sales Force Automation FAQ Section:
What are some of the aspects that a reliable Salesforce Automation System can help me with?
When you deploy a Salesforce Automation system in your organization, you can expect to get assistance with many vital functions including but not limited to –
Lead Management
Opportunity Management
Contact Management
Task Management
Location Tracking
Order Processing
Team Collaboration
Reports And Analysis
What type of businesses need Salesforce Automation?
Retail, Wholesale, Manufacturing, Travel & Hospitality, Real Estate, FMCG, Banking, Healthcare, Media and Communications and almost any business that relies on making sales to turn a profit requires a Salesforce Automation system.