5 Must-Know Benefits of Sales Force Automation for Small Businesses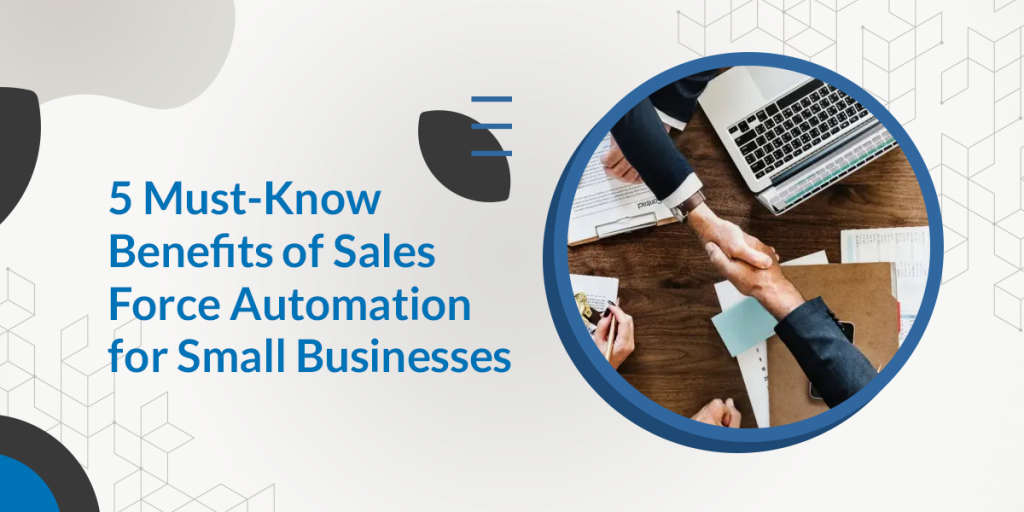 Today's business environment is increasingly becoming competitive. While it is a challenge to maintain a competitive edge for global giants, it is even more difficult for small and medium businesses to stay ahead of their competitors and continuously increase their ROI. They must do whatever they can to build customer trust by providing them with an amazing sales experience. And an efficient sales force can alone do it. A company's sales team is at the forefront of its business, interacting with the customers, closing important deals and partnerships, and generating revenue for the company.
A workforce that performs such important tasks must be enabled with the best technological tools so that they can enhance their contribution to the company by closing the business deals faster, and serving the needs of the customers in a more efficient manner. And Sales Force Automation (SFA) can help to do that, especially for small and medium businesses where the companies often struggle with insufficient manpower or have a limited budget to hire new employees in quick succession.
So, here are some important benefits of Sales Force Automation that small and medium businesses can make use of:
Improved Efficiency
Automation and technology-driven processes provide a number of benefits to the sales team. A number of manual, time-consuming, repetitive tasks can be automated using SFA, resulting in lesser errors, creating better work schedules, and faster access to information. The sales team can dedicate more time to achieving targets as they will not have to spend hours doing manual, form-filling work, or other sales-related paperwork. These tasks can be automated by digital assistants provided by the sales automation platforms. With increased performance, companies can look to improve their revenue streams and dedicate more time to further streamlining their sales process.
Streamlined Collaboration
The personnel working in the sales department often find the need to collaborate with colleagues in other departments to access customer information and interact to close the deals. There is also a need to provide the right information to the clients so that they can make an informed decision about doing business with your company. This requires collaborative work between the sales team and various other departments like finance, production, consulting, inventory, marketing, etc. This kind of inter-departmental collaboration can only be done with automated processes. Doing it manually will not only lead to miscommunication but also delays in the entire cycle. SFA can streamline these collaborations and enable the sales team to fasten their sales process.
Stronger Relationships with the Stakeholders
Be it the end customers, distributors, retailers, or departmental heads within the organization, the sales team personnel interact with a number of stakeholders to complete their pitch. And they require an extremely efficient communications channel so that they can consistently communicate with them all for their sales process. With sales force automation, every interaction and outcome of such communications can be monitored and accessed for better sales planning in the future. All the stakeholders can be enrolled at one location in the automation system and the sales team can access whatever information they require at any given point in time. Surveys and feedback can also be given through this channel to improve the overall sales process.
Makes Business Forecasting More Accurate
It is your sales team that drives your business and gets new deals. The deals in turn generate revenue. So, it is important to know how much sales are possible in the near future can help companies plan better and also forecast their business performance. SFA helps the sales team to identify the future trends on the basis of incoming orders and quotes as well as potential future opportunities. With this information, the team can then develop an accurate financial position of the company for future operations. It will also help them foresee revenue generation and a lot more with SFA's intelligent predictive features.
Sales data analysis to boost Productivity & Sales
All business operations must follow multiple compliance and legal procedures as stated by the federal, state, or county government. There has also been a rising demand in providing personalized sales experiences to people depending on their choices in different states and regions. And this complicated yet extremely important task can be easily handled with SFA. Handling so many compliance clauses and keeping a tab on personalization manually will bring very little to the table in terms of efficiency and accuracy. But automating these processes will help companies be more thorough in their approach.
With real-time data analytic, deeper market insights, and availability of a different set of compliance rules all in one place will enable the sales team to concentrate on their core area of business rather than worrying about compliance and personalization processes.
Frequently Asked Questions About Sales Force Automation
Why Must I Invest in Sales Force Automation?
Automation of different sales processes through technologically advanced tools like Sales Force Automation has only made a positive impact on the overall business development of companies using it. An empowered sales team will bring more business for the company and generate higher revenue. And SFA can make it possible. It improves the efficiency of the sales personnel, helps in predicting revenue generation trends and creating stronger relationships with the stakeholders, and provides ample important data that can be used to improve sales pitch and revenue generation.
Is It Expensive to Invest in Sales Force Automation Software?
While the benefits of SFA are there for everyone to be seen, what most organizations miss is the fact that it provides amazing long-term returns. Many companies refrain from investing in SFA due to its slightly high price, but what they don't realize is that by automating and enhancing several sales processes, SFA pays for itself in a limited period of time.