How SFA Intelligence for Surgical Manufacturers Streamline their Sales & Distribution Channel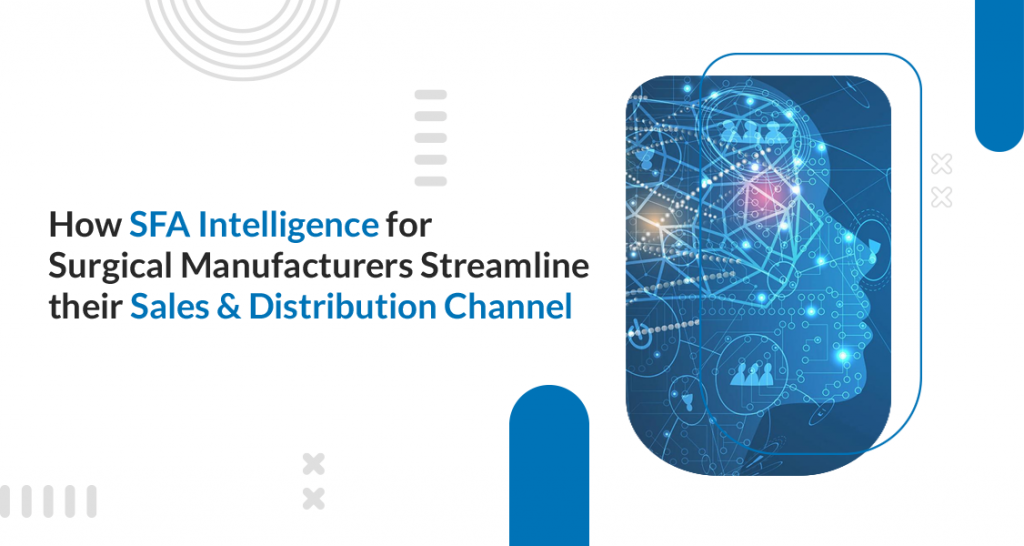 The medical equipment manufacturing industry has been evolving at a rapid pace. And the recent global pandemic has shifted the focus on the industry like never before where it had to handle global demand and face challenges that were, hitherto, never heard of. Not only is it a highly-competitive industry, it demands continuous technological intervention to meet the rising demand globally. To meet this demand, the industry players must keep themselves abreast with the evolving workforce requirements and provide them with the best tools so that they can tackle the unprecedented challenges more efficiently and accurately.

As the customer is the king in every industry, the medical industry is no exception. Consumer behaviour has changed over the years, and they have become more demanding with time. A recently done study conducted by NTT Data Services revealed that 60 percent of consumers now expect their healthcare system experiences to be as good as that of retail, if not better. And this puts unimaginable pressure on the industry players to provide that to their customers. While the industry is grappling with meeting the global demand, they must also continue to expand their business to a wider customer base, and thus the sales workforce remains under constant pressure to outperform themselves. On one hand, the ground force of the sales department of every pharma company is doing its best to create a continuous demand, the companies, on the other hand, must equip them with proficient tools to do their job well. And one such tool is Sales Force Automation (SFA).
How SFA Can Help in Streamlining Sales & Distribution Channels?
Every change that the industry goes through presents them with a new set of challenges and opportunities. And Sales Force Automation can be utilized to convert those challenges into fruitful opportunities. Here's how the medical manufacturing industry streamlines its processes with the help of SFA:
Generating sales leads
Today's market is data-driven, and most dealings, sales pitches, distribution, retention of clients, and generating new clients happen with the help of data. If this data is not streamlined, then companies can lose out on important leads and business opportunities. But SFA can help you make things more organized as it stores all the important and critical customer-related data in one place. This data can be accessed by the sales force for checking the availability of customers/clients, their requirements, buying behaviour, etc and the targeted actions can be developed basis that to generate more leads.
Insightful data for marketing analysis
SFA allows AI integration into the system allowing companies to create better customer engagement. The availability of extensive data through automated processes allows for better strategizing of marketing campaigns, and more dedicated and targeted efforts towards the customers. This process can better streamline sales efforts as the sales personnel will be more informed about what the customers are looking for. A more effective and efficient distribution channel can also be created when the company knows all the details about their customers, their demands, behavior, and what they are looking for in the future.
Customer retention
In an industry as competitive as this, one of the top priorities of every company is customer retention. And SFA can help you in doing that. If the sales team has the right kinds of data available in a centralized manner, they can provide better services to their customers. In turn, there will be higher customer retention.
Reduced sales time
One of the biggest benefits of automation is speed along with accuracy. With every company in the medical industry dealing with a variety of products, services, and customers, it is important for them to automate mundane, repetitive tasks that can take up a lot of time. With SFA, all manual processes can be automated, resulting in quicker sales.
Following up with the clients
In a service industry, customers must be followed up after the services have been delivered to them for higher retention. With automated processes where the software provides which client is in which stage of the sales cycle, the team members can develop a targeted follow-up plan. This will lead to more satisfied clients.
Frequently Asked Questions About SFA In the Medical Industry
Why is it important to implement Sales Force Automation in the medical industry?
The medical industry has been evolving at a rapid pace and the way competition and customer expectations are rising, it is imperative for companies to automate sales processes. It is only through automation that the sales and distribution channels can be streamlined. Unless there is definite data available about the customers, it will be impossible for companies to serve, and retain their customers in the best possible way.
How does SFA help surgical manufacturers?
All kinds of surgical products require proper distribution channels so that the products reach their end-users on time. Unless companies have the right information about who is using their products, how much is the need, where the need is the highest, and in which areas they need to focus their attention, a proper distribution channel will be difficult to implement. And it is only through SFA that such an amount of streamlining and planning can happen. Collating, deciphering, and decoding such a huge amount of data manually will only lead to a lot of miscommunication and chaos.