Why do businesses need a Distributor Management System software for FMCG Brands?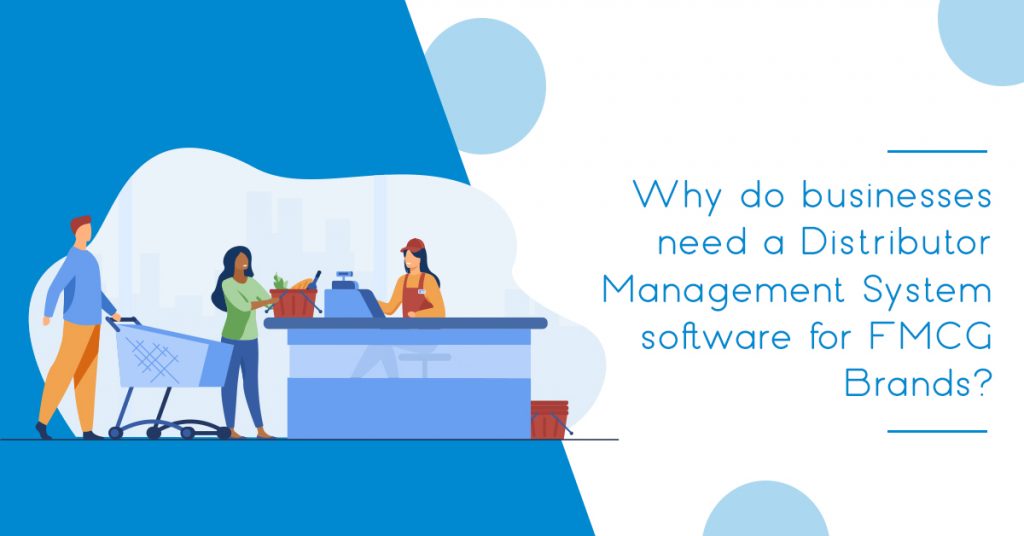 Distributor & Consumer Management System for FMCG Brands
In order for a Fast Moving Consumer Good (FMCG) to find its way to the end consumer, it has to go through a number of stages – starting from sourcing raw materials and manufacturing to packaging, reaching the wholesaler and eventually the retailer.
A Distributor Management System (DMS) is essentially a software that deals with the various stages such as manufacturing, packaging, inventory management, warehousing, etc. in the supply chain pertaining to the distribution of finished products.
Moreover, DMS proves to be immensely helpful in various functions such as tracking of secondary sales, order processing, payment processing and more! All of this is especially beneficial to the FMCG industry, given the immense scale of distribution and the inherent need to reach even the remotest of areas in a country as a widespread nation like India.
To help you understand whether your FMCG business is in need of a DMS, we have consolidated a list of 9 benefits of the same. Going through these will help you make a more informed decision.
Real-Time Visibility of Important Data
For an FMCG company to function efficiently, it is crucial that it has real-time access to a wide array of business data including but not limited to existing stock available with distributors, pending orders, returned orders and more. Only if the business can single-handedly access this data can it monitor its distributors competently, and have a clearer idea of the actual orders gained in a given frame of time.
Remote Area Monitoring
In order to maximise the revenue growth in India, it is extremely important that FMCG companies have a far-reaching distribution network. Not only does this help in faster product channelization from manufacturing plant to the retailer, but also ensures ready availability of the product as per the demand. Of course, this is easier said than done, owing to challenges such as large volumes, remote locations etc. Getting in direct contact with the distributor may not always be an option, which is where a robust DMS comes into the picture. The distributor can easily key in the data to the DMS, thereby helping you keep a tab on the product movement and location at all times.
Added Advantage for Your Distributors
While implementing a DMS will prove to be a cost-intensive and time-intensive process for your organisation, it will immensely benefit your distributors. Not only will it help them streamlining a vast majority of the processes at their end, but it will also help them in automating multiple functions such as movement of goods, invoicing, payment processing etc. Moreover, with features like intelligent alerts, messaging and news and announcements they will be able to stay ahead of the curve at all times.
Swifter Claim Settlement
FMCG brands are bound to deal with issues such as return schemes, damaged receipts, which can be difficult to keep track of. In such cases, a DMS can come to the rescue and ensure a better turnaround time for claim settlement. It will help bring about greater clarity pertaining to the deliverables and payables, for all parties involved. Moreover, automation of the process will ensure faster processing as against the manual system that often requires multiple rounds of communication and even modifications.
Enhanced Management of Promotion and Schemes
A vast majority of FMCG companies spend hefty amounts of money on promotions and schemes to capture the attention of new and existing customers and increase the overall sales volumes. When such promotions and schemes are in place, a distributor management system facilitates that the invoicing at all levels takes into consideration the revised pricing. Moreover, the DMS offers a detailed analysis of the spending on each system, and the ROI on the same, thereby enabling the business to make more informed decisions in the future.
Amplified Sales
Thanks to the availability of real-time data of a wide array of business functions as well as the automation of numerous processes, DMS plays a crucial role in enhancing the productivity and efficiency of the distribution operation. This has a direct impact on the sales volume of a given product, which in turn, helps improve the organisation's profitability.
Cost and Time Minimization
Yet another benefit of automation of numerous processes is the reduced burden of hiring specialised staff for every function. This helps minimise the cost impact on the organisation, while also speeding up various processes.
Faster Stock Replenishment
FMCG companies ought to maintain an optimal level of stock to ensure a steady supply of products to various stockists, distributors, wholesalers as well as retailers. DMS helps keep a tab on crucial information such as stock, expiry date, batch number, return and more, thereby enabling the company to replenish their stock at the earliest possible, without any lags.
Effective Production Planning
Yet another benefit of the distributor management system is an effective production planning, however, it can only be achieved when the DMS is integrated with the demand planning function of the ERP. That being taken care of information such as inventory levels, pending and fulfilled orders, etc can help enable optimal utilisation of resources.
We hope that you now have a better understanding of the significance of a well-designed Distributor Management System for your FMCG company. And now that you do, don't wait any longer before getting in touch with our experts at KOOPS and get a demo of our time-tested DMS today!
FAQ's for Distributor and Consumer Management System for FMCG Brands
What are the challenges to adopting a FMCG Distribution Management system?
Some of the major challenges faced by DMS providers for convincing distributors include –
Inadequate capital
Insufficient skilled resources
Disconnected technical infrastructure
Multi-brand distributors
Reluctant towards modernization
What type of Reporting Capabilities does KOOPS DMS provide?
KOOPS Distributor Management System for FMCG Offers numerous reporting capabilities, the most prominent of which are listed below –
Order reports
Sales reports
Logistic Reports
Demographic analysis and reports
Business trends analysis and reports