Enhance the Power of Distributor Management Software with CRM Integration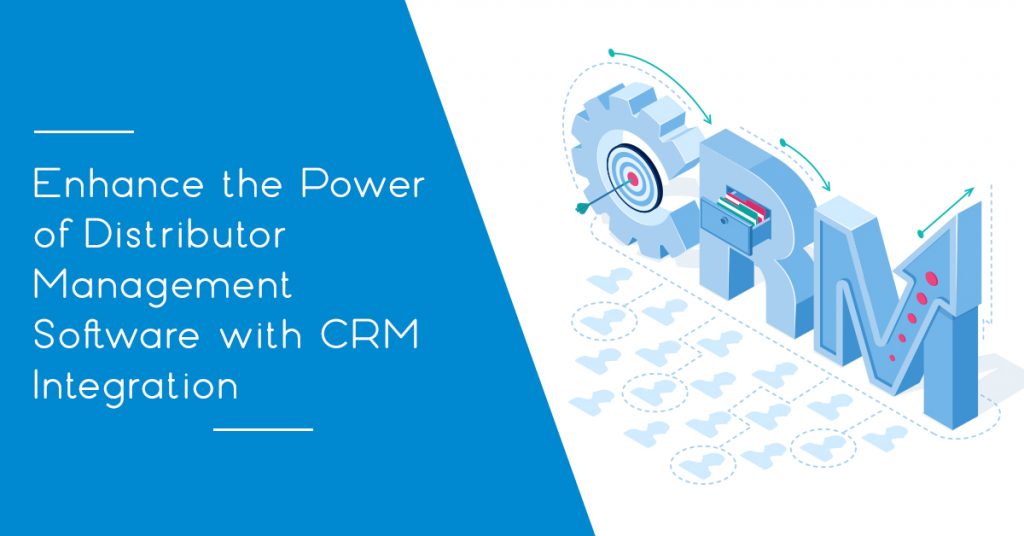 In the present-day scenario of increased use of technology and automation, Distributor Management Systems (DMS) have become a fundamental part of a vast majority of manufacturing businesses, especially those with a large distributor as well as retailer network, for instance, Pharmaceutical Companies, FMCG Companies etc. DMS facilitates the prominence of primary as well as secondary sales, owing to which businesses can formulate strategies for timely delivery of goods to various channel partners including distributors, dealers, and retailers.
While DMS in itself offers multiple benefits, there are instances when it just doesn't suffice. This is especially the case where manufacturers are willing to develop a trust-based relationship with their distributors as well as retailers. This is precisely when a Customer Relationship Management (CRM) comes into the picture. When implemented, a CRM can help set up restructure and automate consistent communication with distributors and retailers to enable ongoing engagement.
All said and done, every company wants a single platform that manages both aspects – Distribution as well as Relationship Management, as implementation and user interfaces of multiple platforms can prove to be time consuming, cost intensive, and cumbersome for all parties involved. This is why DMS with CRM integration is gaining immense popularity. This ensures a singular platform with the benefits of both DMS as well as CRM.
What Does an Ideal CRM – DMS Integration Entail?
The implementation of CRM integrated DMS offers numerous features, the most prominent of which are listed below – 
Automated Syncing of Master Data
As far as manufacturers are concerned, distributors, stockists and retailers are their customers. Hence, it is crucial for the manufacturers to have all details of these 'customers' at their fingertips. This enables a smoother workflow between the parties involved while also ensuring seamless communication. All of this can be assisted by the automated syncing of master data from the DMS to the CRM, as a result of the integration of the two.
Once the CRM gets access to the master data, it becomes exceedingly convenient for the customer relation executives to get in touch with the existing channel partners for feedback on various products. The same data can also be used by business development executives for the onboarding of new distributors and retailers.
Not only can the integrated system automate the calling process but can also help maintain a holistic record of all conversations.
A CRM integrated DMS can conveniently enable a compliant management feature to facilitate easier and faster addressal of the problems being faced by retailers and distributors. The complaint ticket can be raised by a customer relationship executive within the system, and the concerned area manager can get the information on the same almost immediately. They can then resolve the issue at the earliest, thereby enabling a stronger relationship with the channel partners and retain them for a significantly long period of time.
Details pertaining to calls such as interactions, complaints, etc. can be stored and accessed by the customer relationship team, complete with analytics and insights such as the number of calls made per day, duration per call, etc. These insights can enable the managers to make informed decisions, and implement changes (if required) in the existing ways of communication over call.
CRM integrated DMS allows the manufacturers to get in touch with their channel partners through the most promising way, i.e. – Email! This helps save the precious time of sales managers and ensures that the sales cycle becomes swifter. Moreover, it ensures that the CREs can easily alert distributors and retailers regarding any ongoing or upcoming ongoing promotions, exclusive offers, and schemes, etc. This level of email marketing helps the manufacturers enjoy greater ROI.
CRM integrated DMS is your sure shot way to ensuring that your business stays ahead of the curve, today and always. After all, what better a way to grow by leaps and bounds than to unify your sales and marketing forces. So, if you feel ready to embrace this new-age tech, then simply get in touch with us with our experts at KOOPS and get a demo of our time-tested DMS today!
FAQs For CRM DMS Distributor
What kind of support and maintenance is offered for KOOPS DMS?
KOOPS Distributor Management System is backed by a competent team of customer support staff which stays by you at every step of the way, right from the implementation of the DMS to post-implementation care, as well as CRM integration. 
Is the CRM scalable?
Yes, the DMS integrated CRM offered by KOOPS is scalable. As your business grows, so will the CRM.
Does the CRM have business intelligence features?
Yes. The DMS integrated CRM offered by KOOPS offers business intelligence features including but not limited to –
360° Visibility of Leads
Smart Bifurcation
Smart Planning
Smart Activities
Smart Notifications